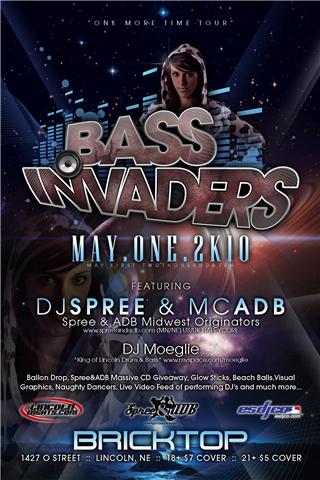 :::Bricktop & ADB Present....
:::BASS INVADERS:::
:::Saturday May 1st, 2k10
Party Starts @ 8pm
18+ = $7 Cover
21+ = $5 Cover
:::SPREE & ADB
Midwest Originators
SpreeAndAdb.com (MN/NE) US/UK *One More Time Tour*
Happycore/DnB
http://www.SpreeAndAdb.com
Spree & ADB are the craziest old skool badboys who have rocked over 250 international raves worldwide. Spree is renown for his unique 'Tornado' scratching skills and ADB is the only UK MC to have hosted events in London, NYC, LA, Barcelona, and Nebraska. This is the last time you will get to see these lads live so bring some friends and let's get messy, Oi Oi!
DJ Moeglie
*King of Lincoln Drum & Bass*
http://www.myspace.com/moeglie
*Special Opening Set*
DJ Squints Omaha
NE DnB Producer & DJ Extraordinaire
http://www.myspace.com/djsquints
Bricktop will never be the same again! Yes, that's right party crew. On finals weekend come celebrate and let it all hang out as ADB ENT brings you a pulsating high octane night of music!
Get ready to experience a full on 100% vinyl assault with all DJ's spinning NOTHING BUT FULL-ON VINYL RECORDS LIVE ON TURNTABLES. DJ's scratching and banging basslines all night long :)
We are bringing in tons of extra bassbins to make sure 'Bass Invaders' melts ya face off!
:::Additional Free Fun...
Balloon Drop, Spree&ADB Massive CD Giveaway,Free Glow Sticks, Beach Balls, Visual Graphics, Naughty Dancers, Live Video Feed of performing DJ's and much more...
:::Drink Specials Include...
-$2 Domestic Mugs
-$3 Well Talls
-$4 Redbull Vodka Talls
......................................All Night Long
After Party in da works party crew!!!
Facebook Event Page:
http://tinyurl.com/yc2pene